Geochemistry Schedule of Services and Fees 2022
ALS Geochemistry is the world's most trusted testing service dedicated to high-value geologic data support for the exploration and mining community. Our Geochemistry Schedule of Services and Fees 2022 provides a current description of our routine sample preparation and analytical testing options.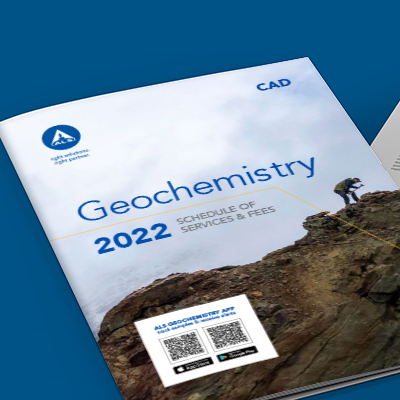 We offer geochemical solutions for the following:
Sample preparation
Precious metal analysis
Generative exploration
Targeted exploration
Whole Rock, lithogeochemistry, sulphur and carbon analysis
Specific ores and commodities
Acid Rock Drainage (ARD) and concentrates
Mineralogy
Methods offered, concentration ranges, pricing, global locations and accreditations are available in our Geochemistry Schedule of Services and Fees. Contact details for our client services teams in each region are listed to assist with any questions or additional information. We have four currencies available for download AUD, CAD, EUR and USD. Please contact our client service team if you require a quote in other currencies.
Find your currency here