EnviroMail 136 - Focus on Quality PFAS
A pair of sample containers is required to conduct PFAS analysis, plus additional pairs for the lab QA/QC to comply with DoD QSM 5.3 and NEPM.
When sampling waters for PFAS analysis, providing the correct number of sample containers will ensure quality objectives are achieved for your important projects. Additional bottle pairs facilitate the minimum frequency of lab QA/QC samples per NEPM and satisfies the requirements of the Department of Defence (DoD) Quality Services Manual (QSM 5.3). The QSM prescribes whole bottle extraction meaning each container represents a single analysis. Pairs are supplied for confirmation by re-extraction (where required).
To perform laboratory QA/QC (duplicates and matrix spikes), additional sample volume is required, dependent on the quantity of samples submitted for PFAS analysis. Laboratory QA/QC specifications are based on:
5% Matrix Spikes (MS) – 1 analysed per 20 samples.
10% Laboratory Duplicates (DUP) – 2 analysed per 20 samples.
When submitting >20 samples include additional pairs of containers for DUP and MS following the same logic described above and represented below.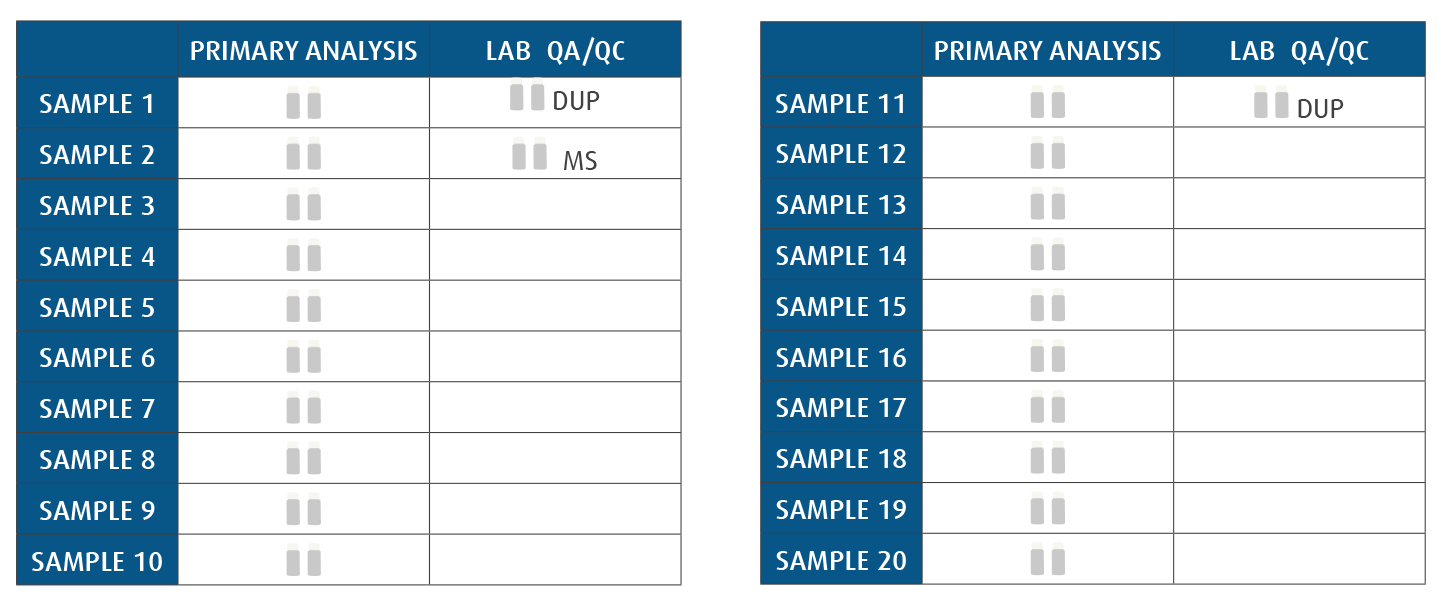 The example table above is a guide to highlight the required frequency. It is not mandatory to submit the additional volume on samples 1, 2 & 11. Sample selection for DUP and MS analysis should be carefully considered based on the sample properties.
Additional volume for MS analysis and DUP analysis should be provided for different samples.
Samples must be submitted in line with an existing sample ID but must indicate via the COC additional volume has been provided for QA/QC purposes e.g., by noting "Lab QC" (for both Dup and MS) as shown in the COC below.
If in doubt, please contact your local Client Services representative who will assist in confirming the bottle requirements for your project to ensure QA/QC compliance is achieved.