EnviroMail 80 Australia - Data Management Innovation and Support
ALS offers enhanced integration with Environmental Database Management Systems.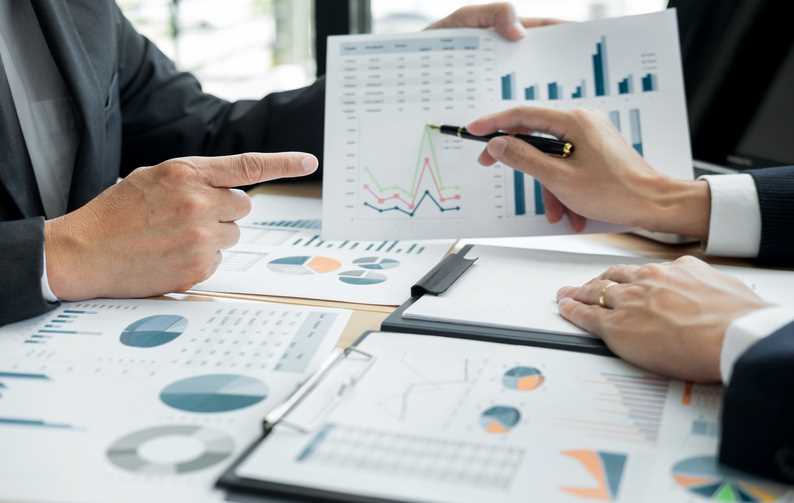 Introduction
"ALS is the first laboratory to fully integrate ESDAT's new eQUOTE, eCOC, eSRN and Laboratory Initiated Results Upload functionality" (Warwick Wood, Director EarthScience Information Systems, March 2014)
"ALS pioneered integration of the EQuIS eCOC and SRN EDD, enhancing the speed and accuracy of data delivery in the EQuIS workflow." (Michael Askew, Asia-Pacific Systems Engineer, EarthSoft, April 2014)
Over the past 18months, ALS has worked closely with major industry clients and software vendors to develop a fully integrated solution for EQuIS and ESdat. ALS has participated in the design, development and testing of Electronic Quote (eQUOTE), Electronic Chain of Custody (eCOC)and Electronic Sample Receipt Notification (eSRN)with the ultimate aim of supporting innovation in the important area of data and cost management(see diagram following).
Historically, ALS supported clients in this area by providing analytical results in an Electronic Data Deliverable (EDD). Pre and Post-deliveryof the EDD, little interaction occurred with the laboratory, with the client checking and loading EDD's manually. This 'traditional' approach can be eliminated. ALS now has the ability to offer eQuote, eCOC and eSRNas well as electronic result uploads and ensure these are loaded into client data bases without error, reducing administrative workload on the client side. If innovation and overall cost reduction in this area is important to you, please feel free to talk to your local ALS Manager. ALS has a dedicated team of IT professionals with a proven track record assisting major industry clients. Services offered by ALS range from creating custom result EDD templates through to supporting clients who are transitioning to a new data system.
Please note: To realize benefits outlined in this document, clients must have the appropriate applications in their software stack. Contact your vendor representative to confirm software requirements (http://www.esdat.com.au/ESdat_LSPECS_ALS.aspx / http://www.earthsoft.com/).
Sample receipt notification EDD (ESRN)
ALS standard practice is to issue aSRN.pdf for every work order submitted to the laboratory, which relies on our clients to review and manually determine if any issues will impact important data quality objectives (DQO).
eSRN may provide clients the most value out of the new features available. Not only will this allow clients to store SRN information within the database for posterity, tools provided can highlight (potentially in real time)any important data quality objectives which have failed. Other benefits to clients may include:
Improved compliance and reporting practices
Central storage location for all SRN data which may benefit TPR / audit process
Identify in real time holding time breaches or bottles non-compliances that may negatively impact DQOs and warrant immediate assessment of the potential need for resampling (e.g. a critical compliance parameter)
Generation of work order due date report to facilitate follow up with the laboratory
Automated reconciliation confirming all samples have been received by the laboratory and correct analysis registered.
EQuIS and ESdat have now developed functionality to support eSRN and integrate with ALS.
Electronic COC (eCOC)
eCOC is created using the vendors software. The traditional COC is not replaced, but supplemented with an eCOC file which is emailed to ALS following completion of the sampling event.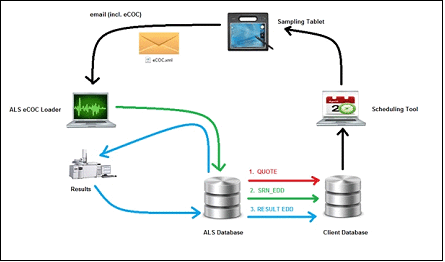 eCOC allows 'front end integration' with the laboratory as the eCOC file is loaded directly in to the ALS LIMS. Importantly, the contents of the eCOC match exactly what is stored in the client database, ensuring all future EDD correspondence generated by ALS (eSRN and result EDD's) is compatible, assisting the automated data loading process mentioned earlier.
Ideally, the software which generates the eCOC is used on a portable device in the field. This allows users to capture sample informationand record field results at time of sample collection, eliminating manual transcription completely. Additional benefits for clients using the field software and eCOC include:
Improved sample receipt processing times taking advantage of courier transit
eCOC can be emailed to the laboratory while the samples are in transit allowing ALS Sample Receipt to pre-register the work order in our LIMS. Upon receipt of the corresponding esky, samples are simply checked, labelled and submitted to the laboratory for analysis, reducing time and greatly improving holding time and overall DQO compliance. This is particularly important where samples have limited holding time remaining or clients require express turnaround times.
Eliminates transcription errors by the laboratory when interpreting illegible handwriting on paper COC; notably around sample ID (e.g. '5' or 'S'; '0' or 'O')
Controls the automated flagging of field results exceeding predefined threshold values(e.g pH 0.7 vs 7.0)
Creation of both a conventional COC along with eCOC file . Linkage to a unique number for traceability
Equote - Populating the data managment system with ALS information
ALS considers the ability to provide quotation information in electronic format to be key for successful integration. It ensures that eCOC information in the clients environmental data management system is consistent with the information expected by ALS. Furthermore it has the potential for users of environmental data management systems to accurately plan container and cost information prior to field visitswith minimal effort.
The ESdat scheduling and planning tool supports, clients populating their database with ALS quotation information (e.g. quote number, methods/analytes, suites, sample containers, LOR's). ESdat has functionality to enable ALS quotation information to be loaded directly in to the database from an ALS eQuote, saving clients significant time.
Although no formal EDD is available for EQuIS users, ALS can support EQuIS clients in this area by providing project specific information (e.g. MAG's, sampling containers, CAS#'s) in a soft copy to enable clients to load data to their EQuIS reference tables rather than doing this manually through EQuIS Professional.
Laboratory initiated results upload
ALS are able to automatically upload your laboratory results directly into the client database. As part of this process ALS will receive an email notification from the client system indicating any non-conforming results or problems. ALS will immediately rectify any issues and resend the result files for loading to the database. Both ESdat and EQuIS can now support this functionality.