EnviroMail 50 Canada - Comprehensive LC/MS/MS Pesticide Residue Scans Maximize Data Quality Using 70-90% Less Sample
ALS Canada is introducing new streamlined LC/MS/MS pesticide scan methods to meet most Canadian pesticide guidelines for waters with fewer tests, improved data quality, and with sample size reduced to only 100 mL, benefitting manual handling, freight, and our sustainability efforts.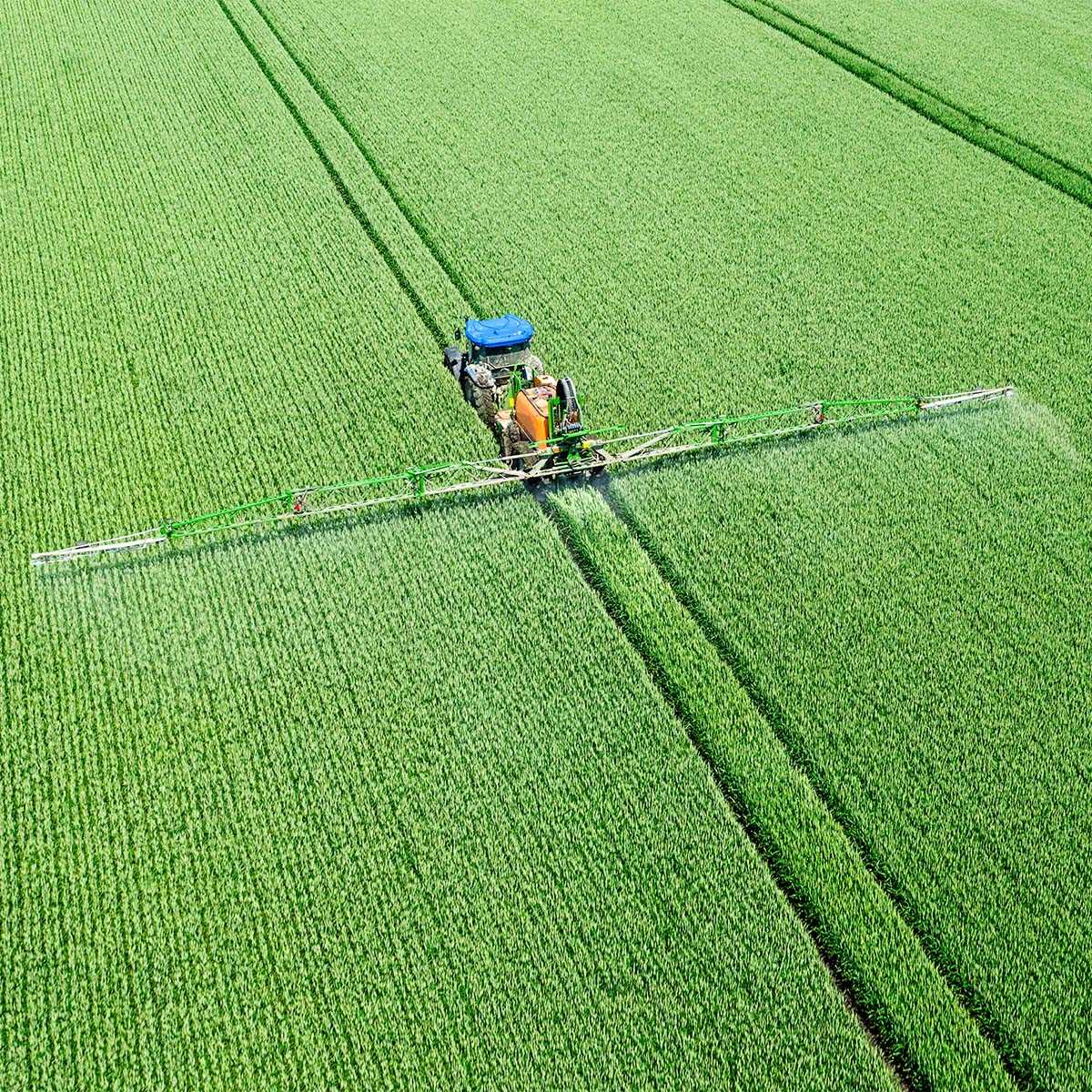 Data Quality Improvements with LC/MS/MS
Historically, most environmental testing for pesticides has utilized single quadrupole GC/MS (Gas Chromatography / Mass Spectrometry), but in recent years LC/MS/MS (Liquid Chromatography with MS/MS detection) has become the instrumentation of choice for most pesticide analysis. LC is preferred over GC for polar, acidic, and thermally labile or reactive substances, and most pesticides (with the notable exception of Organochlorine Pesticides - OCPs) fall in these categories.
ALS Canada has now replaced all our legacy GC/MS single quadrupole pesticide methods with LC/MS/MS (excluding OCP and some soil tests), which can provide significant data quality gains, particularly in complex sample matrices, due to the use of tandem mass spectrometry and Muliple Reaction Monitoring (MRM). LC and GC techniques both isolate test analytes using chromatography prior to detection and measurement. False positives can still occur with single quadrupole mass spectrometric detection, which measures ions of specifically targeted mass:charge ratio, but with LC/MS/MS and MRM, false detections are practically eliminated. With MRM, a precursor ion is isolated in the 1st stage of the spectrometer, which is then further fragmented in the 2nd stage, with unique "daughter ion" fragments detected in the 3rd stage of the instrument. With MRM, positive detections have very high certainty, because only the correct daughter ions generated from specified precursor ions are measured. LC/MS/MS methods also usually require far less manual handling than GC/MS methods, which reduces many sources of variability and potential for analyte loss – improving precision and accuracy. For most analytes, our new LC/MS/MS pesticide scan methods offer equal or lower detection limits versus our legacy GC/MS tests.
Reduced Sample Size & Sustainability Benefits
A major advantage of our new LC/MS/MS pesticide methods is that sample volume requirements have been dramatically reduced, typically from 2 x 500 mL down to only 100 mL. For low-level tests, 3 x 100 mL samples are required. This further advances the ALS commitment to sample size reduction, assisting with faster and easier sample collection in the field, and causing less potential for manual handling risk for samplers. Sample size reduction also reduces our carbon footprint through decreased shipping weight and reduced consumable use, while also minimizing shipping and transportation costs.
Figure 1. Old vs New Sample Containers - up to 90% reduction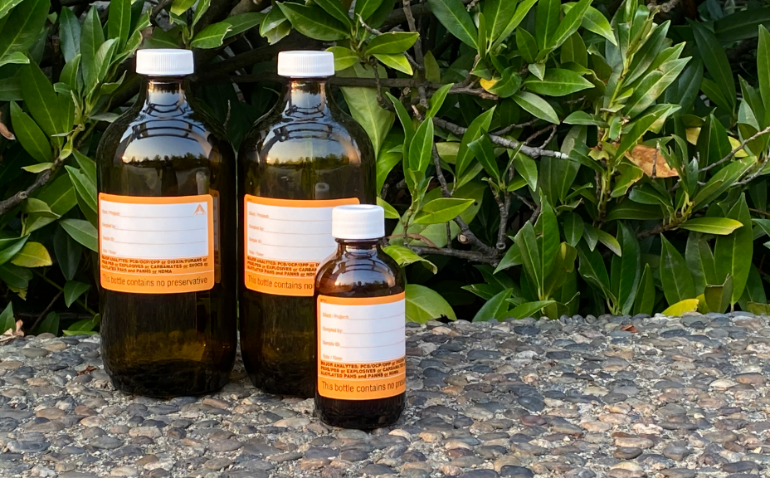 Streamlined Tests to Meet Canadian Guidelines
Our new LC/MS/MS pesticide scans have also incorporated several previously separate LC/MS/MS pesticide methods, combining seven different methods to two, and reducing the total cost of analysis where our clients require comprehensive pesticide testing. Table 2 lists 66 different pesticide analytes covered by our two new scans (test codes E755 + E756), showing comparisons with most of the common Canadian pesticide guidelines and standards. Most guidelines can be met with our routine test codes, but a few require our low-level methods. The lowest limits for Chlorpyrifos and Deltamethrin cannot be met using 100 mL sample volumes, but ultra-trace methods for these analytes are being developed.
Omethoate Testing Meets New Canadian Drinking Water Guidelines
Our new E755 LC/MS/MS pesticide scan also includes testing for Omethoate, which is now required to assess the new Canadian Drinking Water Guidelines for Dimethoate (Sept 2022), which must be evaluated using the sum of Dimethoate + Omethoate (expressed as Dimethoate toxic equivalents). Routine-level test codes may be used to meet all pesticide limits under the Canadian Drinking Water Guidelines.
Sampling and Test Details
Summary details for the common pesticide tests offered by ALS Canada are provided in Table 1, including test codes, sample container requirements, preservation details, and recommended hold times. All these tests are offered out of the ALS Waterloo laboratory. ISO 17025 accreditation for our LC/MS/MS Pesticide Residue Scan methods (E755 & E756) is pending, expected Oct 2023. Existing pesticide test methods (E706, E723, E716, and E660 codes) are currently accredited. Please refer to the ALS Waterloo CALA Scope of Accreditation for current accreditation status and details. For more details about our Phenoxy Herbicides methods, please refer to EnviroMail 16. For more details about our GC/MS/MS Triple Quad Organochlorine Pesticides methods, please refer to EnviroMail 19.
Table 1. Sampling Details for Common ALS Canada Pesticide Tests
Pesticide Test Category
Instrument
Test Code
Level
Sample Containers1
Hold Time
Pesticide Residue Scan 1
LC/MS/MS
E755
Routine
100 mL amber glass2
7 days
E755-L
Low
3 x 100 mL amber glass
Pesticide Residue Scan 2
LC/MS/MS
E756
Routine
100 mL amber glass2
7 days
E756-L
Low
3 x 100 mL amber glass
Phenoxy Herbicides
LC/MS/MS
E706A
Routine
100 mL amber glass2
7 days
E706A-T
Trace
3 x 100 mL amber glass
Diquat/Paraquat
LC/MS/MS
E723A
Routine
60 mL HDPE3
7 days
Glyphosate/AMPA
LC/MS/MS
E716A
Routine
60 mL HDPE3
14 days
E716B-L
Low
Organochlorine Pesticides
GC/MS/MS
E660F
Routine
2 x 100 mL amber glass
7 days
E660F-T
Trace
1 All tests: Preserve with sodium thiosulfate if chlorinated.
2 A single 100 mL sample is sufficient for all the E755, E756, and E706A Routine tests.
3 A single 60 mL sample is sufficient for all the E723 and E716 tests.
Please contact your ALS Project Manager for more information.
Table 2. LC/MS/MS Pesticide Scan Parameters vs. Common Canadian Guidelines.
See Full Table [PDF].
Download this EnviroMail - EnviroMail 50 Canada - Comprehensive LC/MS/MS Pesticide Residue Scans Maximize Data Quality Using 70-90% Less Sample