The Growing Threat of Microplastics: How ALS is Advancing Testing
ALS is going beyond microscopy in using advanced technologies to help researchers, governments, and industrial partners address growing worldwide concern about microplastics.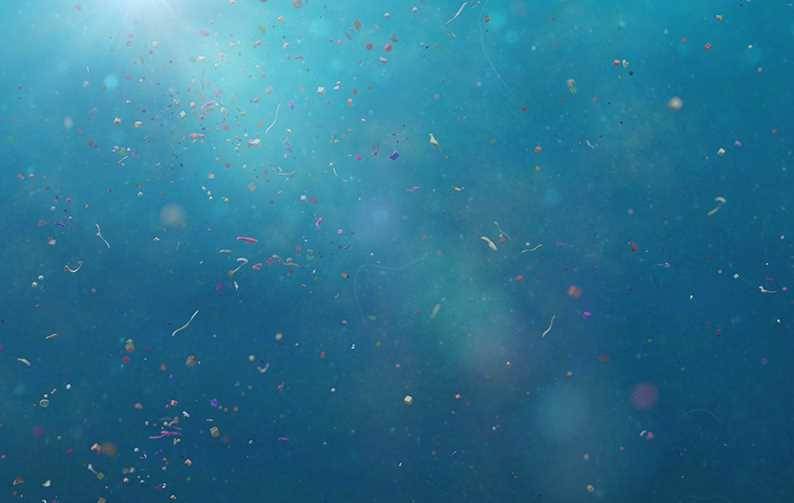 A 2019 study by the University of Newcastle, Australia, suggested that an average person could be ingesting approximately 5 grams of microplastics every week—the equivalent of a credit card's worth of plastic. While that landmark study was inconclusive, and research into the presence and effects of microscopic plastic particles in humans is ongoing, increasing concern about the potential health ramifications of microplastics has led to the adoption of innovative technologies to investigate them.

A growing problem…and growing global attention

At the current rate of production, it is estimated that there will be more plastic than fish in the ocean by mid-century. The eleven million metric tons of plastics that enter our ocean each year are not biodegradable: they break apart into smaller and smaller pieces over time, creating microplastics—fragments of plastic less than 5 mm in length. Other microplastics are intentionally tiny and created for various industrial uses.

In November of 2023, the United Nations' Intergovernmental Negotiating Committee is scheduled to complete the development of a draft of the first-ever international legally binding instrument on plastic pollution. Given the committee's goal to address the full life cycle of plastic, it is likely that the legal instrument will raise the issue of microplastics, which should increase attention to the problem.

Advancing testing

ALS is well prepared to expand microplastics testing for its global partners, as it has already entered the accreditation process for microplastics analysis at its laboratory in Malaysia and is expected to receive its certification by the end of 2023. This accreditation covers samples from wastewater, fish, and soil. As demand for testing is already increasing, ALS plans to add other types of sample matrices to future accreditation, including river water, marine water and air.

Early research into microplastics, which were first identified in 2004, relied on microscopes to observe the shape, size and color of microplastic particles. However, microscopy could not provide further information or effective confirmation.
Using advanced laboratory techniques like Micro-FTIR and Pyrolysis-GCMS, ALS is supporting its clients with microplastics analysis that provides specific information on polymer type and particle quantity. These techniques also offer faster analysis and fewer false negatives or false positives than microscopy.
Trusted partners
ALS' clients have been enthusiastic about its microplastics testing services.
Doctor Soo Chen Lin, a researcher at the Institute for Tropical Biology and Conservation, University Malaysia Sabah, faced a challenge in identifying the polymer type in a microplastics study, and turned to ALS.
'ALS was recommended by many other researchers I knew,' said Dr. Soo. 'The services they provide are exceptional, as they are quick to respond to my enquiries and cater to my research needs. They assisted me in conducting the polymer type analysis for my samples, drawing the study to a conclusion.'
Another of ALS' clients in Malaysia, Doctor Sabiqah Tuan Anuar, an Associate Professor at University Malaysia Terengganu (UMT), was impressed with the effectiveness of ALS' microplastics testing technologies.
'The pyrolysis-GCMS system enabled us to identify and quantify polymers associated with our microplastics samples, while micro-FTIR provided the ranges of possible polymers detected in the sample,' Dr. Anuar explained. He also had an equally positive service experience. 'We are happy collaborating with ALS—the service is always done fast, on time and according to our needs.'
Doctor Dewika Naidu, Professional Technologist in Atmospheric Science & Environment Technology, Sunway University, describes a similar experience:
'ALS provides outstanding microplastics analysis services,' says Doctor Naidu, 'Their meticulous work has been instrumental in advancing my research on this emerging environmental contamination. Their precise and reliable results have significantly contributed to a deeper understanding of the impact of microplastics.'
In addition to its main microplastics testing lab in Malaysia, ALS has been offering microplastics testing for clients in the United States, Europe, and the Middle East, and plans to continue expanding its analytical services and consultation services to help advance the world's understanding of the growing issue of microplastics in the environment.
'ALS has consistently delivered with excellence, and I am grateful for their expertise,' adds Dr. Naidu. 'They are an invaluable partner in the pursuit of a cleaner, healthier planet.'
About ALS
ALS provides comprehensive testing solutions to clients in a wide range of industries around the world. Leveraging state-of-the-art technologies and innovative methodologies, our dedicated professionals deliver the highest quality testing services using local expertise and personalized solutions. The ALS mission is using the power of testing to solve complex challenges. With a passion for science, we serve clients with data-driven insights for a safer and healthier world.
References
https://d2ouvy59p0dg6k.cloudfront.net/downloads/plastic_ingestion_web_spreads.pdf
https://www3.weforum.org/docs/WEF_The_New_Plastics_Economy.pdf
https://unfoundation.org/blog/post/protect-our-planet-from-plastic-pollution-5-things-to-know/