Forms of moisture in coal
Moisture occurs in a range of forms in coal. Further, as coal is heated additional moisture is driven from the coal's structure. The following described how moisture yield increases as coal is heated.
Surface Moisture (also termed Adventitious Moisture): This moisture occurs on the surface of coal and in open pores. a box at a set bulk density. This moisture is the first component to be generated during heating.
Hygroscopic Moisture: This moisture is held by capillary action within small pores and microfractures within the coal. The stronger intermolecular force produces a lower vapor pressure and therefore higher temperatures are required to evaporate this moisture. Obviously, there is a gradational boundary between Surface Moisture and Hygroscopic Moisture.
Decomposition Moisture: As coal is heated to higher temperatures, water is formed from the decomposition of the organic part of the coal.
Water of Crystallization: Water associated with minerals, notably clays, will yield water. Additionally, water bound in salts will also generate moisture with heating.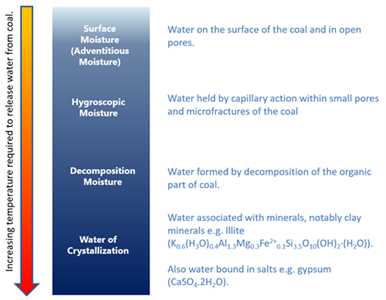 Recognizing that there are various forms of moisture in coal does not allow us to determine the proportion of a particular form of moisture that is generated during analysis. This is because there are gradational temperature boundaries between the various forms of moisture. As a consequence, standards organizations have selected arbitrary temperatures to describe the nature of moisture in coal. Thus:
Surface Moisture approximates Free Moisture which is the moisture yield determined at approximately 40°C.
Hygroscopic Moisture approximates Residual Moisture which is the moisture yield determined at approximately 105°C. At this temperature there may also be some Decomposition Moisture and some Water of Crystallization in the evaporated moisture.
Understanding that the moisture generated in a particular determination is sensitive to changes in temperature and time, highlights the importance of having strong controls on temperature and time when performing moisture determinations.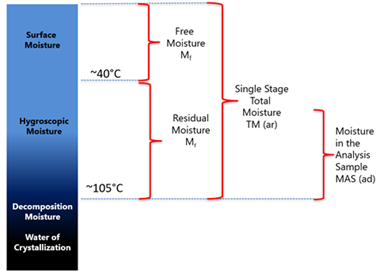 Standard Tests for Measuring Moisture in Coal
The following list described standard moisture determinations:
Single Stage Total Moisture (TM): A sample of coal is placed in an oven at 105-110°C until it attains a constant mass. The mass loss is the Total Moisture. The ISO 589 and ASTM D2961 Standards describe the mass and top-size of the coal, the time delay required before first weigh-back and subsequent re-weighs as well as empirically derived repeatability and reproducibility limits
Two-Stage Total Moisture (TM): The Free Moisture (Mf )is determined at 40°C and once constant mass is achieved, a sub-sample is taken and is placed in an oven at 105-110°C to produce the Residual moisture (Mr) result. The ISO 589 and ASTM D3302 Standards describe the details of the process. To calculate the Total Moisture from the Free Moisture and Residual Moisture the following equation is used. Total Moisture (ar) = Mf + Mr (1 – Mf / 100)
Moisture in the Analysis Sample (MAS): The Moisture in the Analytical Sample is performed on samples that will undergo additional tests such as proximate analysis, ultimate analysis, total sulfur, specific energy etc. This is a moisture determination performed at 105-110ºC on samples that have been equilibrated with the laboratory's temperature, humidity and atmospheric pressure. The equilibration is simply achieved by laying the sample out on a flat surface for a period of time – termed "conditioning". As this is an analytical sample, this material will have been milled to a nominal top size of either 212 µm or 250µm. The ISO 11722 and ASTM D3173 Standards describe the details of the process. This test has two purposes. As the moisture content of coal constantly varies in response to the laboratory's humidity, atmospheric pressure and temperature, this test is required to correct for this variable, which in turn allows the other tests to be correctly converted to a range of other moisture bases. This test is also required in part to correct tests such as volatile matter and hydrogen.
Food and feed
Standard Tests for Measuring In-situ Coal Moisture
When determining the mass of coal in a deposit it is important to account for the in-situ moisture
There are two similar analyses that are used to obtain this information. They are the Equilibrium Moisture (EM) determination (ASTM D1412) and the Moisture Holding Capacity (MHC) determination (ISO 1018). In each case fresh coal is placed in a crucible which is then placed in an evacuation chamber containing a bed of potassium sulfate and water. The pressure vessel is evacuated to 2.0-2.5 mPa and the evacuation chamber is immersed in a temperature regulated bath at 30°C. This maintains a high humidity in the vessel, allowing for the coal to be fully saturated. After a set period of time the coal is removed and weighed. It is then dried at 105-110°C and re-weighed.
It was identified that the analyses described above do not provide a sufficiently accurate indication of the true in-situ moisture and equations were developed to better correlate Equilibrium Moisture and Moisture Holding Capacity with field observations (see Fletcher, I.C. and Saunders, R.H. (2003) "Estimation of in-situ moisture of coal seams and product total moisture", ACARP Project C10041). This resulted in the two correction equations where In-situ Moisture is the moisture content of coal as it exists in the seam prior to mining:

In-situ Moisture (Mis) = 1.117 EM + 0.317
In-situ Moisture (Mis) = 1.143 MHC + 0.348